Full-service marketing support for Interact Medical – market-leaders in the safe supply of locum staff.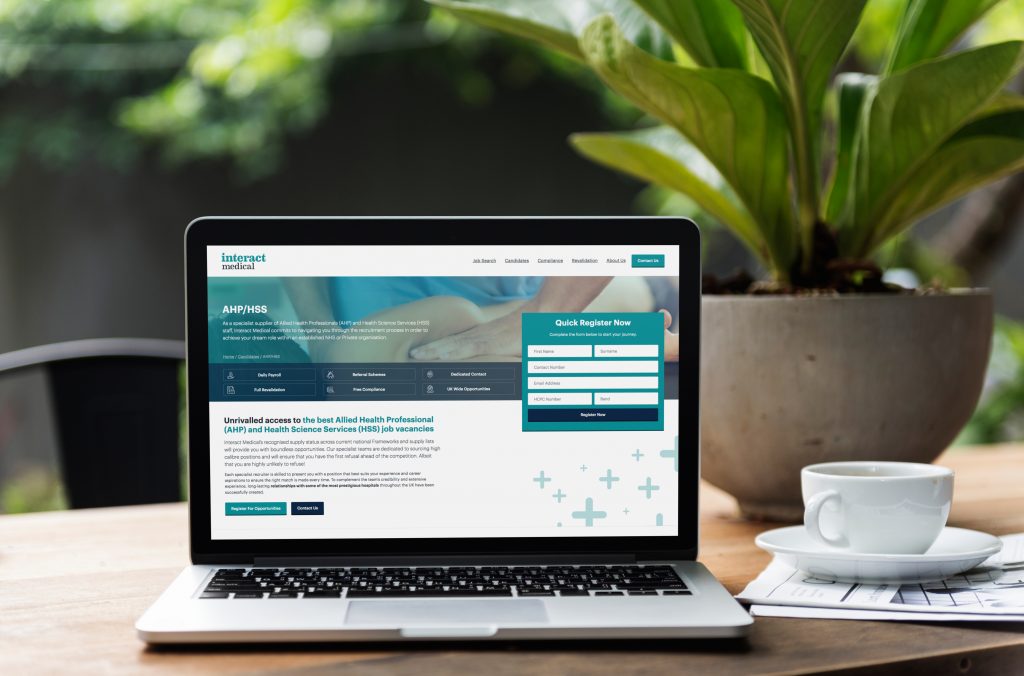 Having worked with our friends at Interact Medical in the past, it was great to join forces again with this successful Medical Recruitment specialist and give the brand a new lease of life!
---
The old website used an elementary template throughout, regardless of content or audience.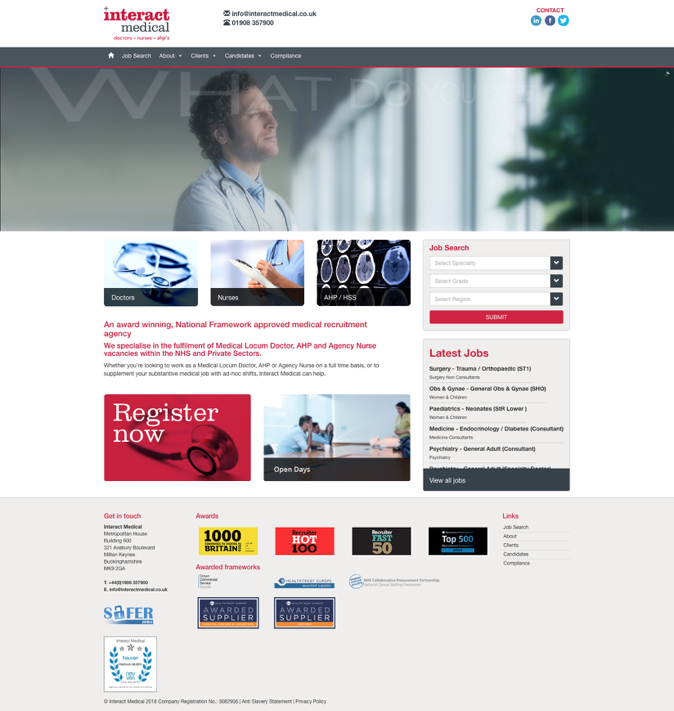 ---
The Brief…
A 'very simple and easy to digest' modern website with a 'quick and easy candidate registration process'.
Highlight key company benefits – compliance, a personal approach, retention of employees, creating lasting relationships, safe supply of staff.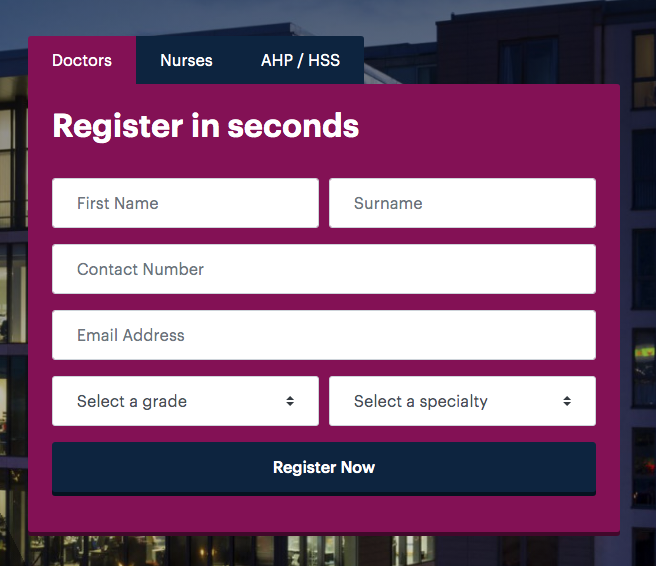 64% of all internet traffic happens on a mobile device!
---
Collectively – this build has around 150k lines of code and 200 commits! With integration from multiple sources into Interact's jobs system API, for both the pulling of job listings and pushing of candidate registrations.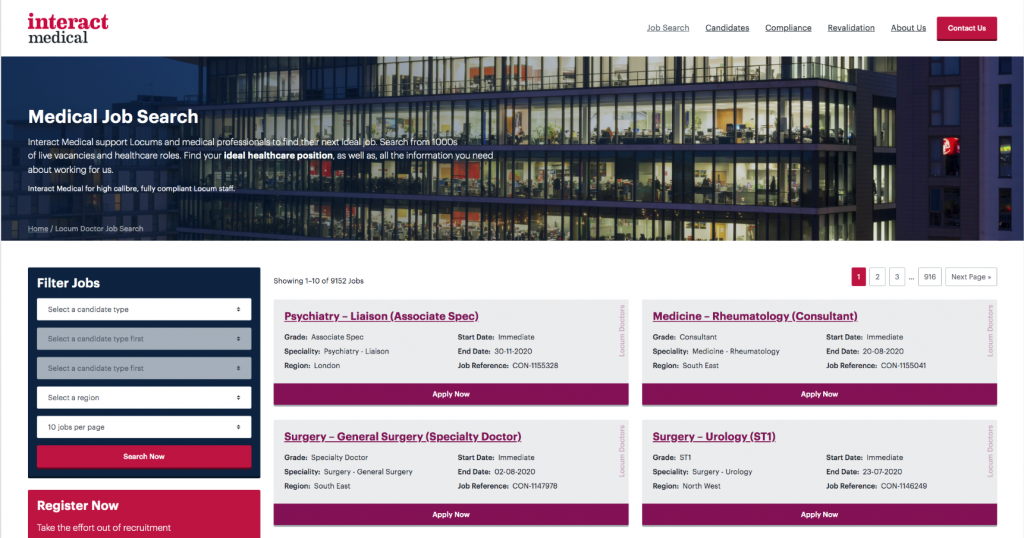 ---
A fresh new look – Photography and Video
Good quality – emotive website imagery has the ability to grab the user's attention, trigger emotion and compel them to continue their journey across the website.
Therefore, it was important to the directors that bespoke imagery was used throughout the website, rather than relying on stock images that were already overused by competitors. After all, the company prides itself on its employee's knowledge and the level of candidate support that they provide.
VI was commissioned to organise and art-direct a photoshoot at the Interact's HQ site, as well as, arranging video shoot at a Revalidation event which they hosted in Milton Keynes.
This included interviewing and recording existing long-term candidate testimonials – which are featured in the new website.
---
Brand Evolution, not Revolution
Interact Medical was already a well-recognised brand within their field of specialism. After initial discussions with the Senior Management team, it was agreed that their strong reputation would be enhanced by a brand shift change to extend their reach and awareness in developing areas of their business and market.
The outcome was to tweak the logo and expand the existing colour palette to enable them to distinguish key audience types.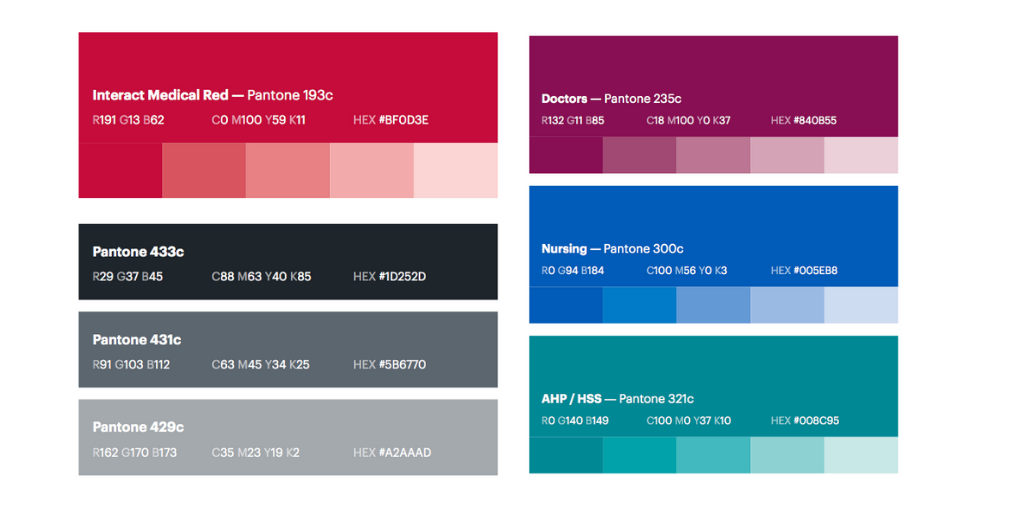 During the website build process, we introduced three new sub-brand colours to make it easy for Doctors, Nurses and AHP/HSS candidates to easily decipher between information that's relevant to them.
---
Marketing a successful medical recruitment business was all about finding their voice… It was time to get social!
The biggest health crisis the UK had ever seen in its history, needed campaigns that were sensitively handled. These shone a light on the role Interact Medical could play in resourcing the NHS Nightingale hospitals during the Covid-19 pandemic. They demonstrated their breadth and relevance in the response to coronavirus pandemic to yield a positive, effective and speedy outcomes.
A social media and e-marketing strategy for a medical recruitment business is less about the tools used to deliver it, and more about understanding the brand's unique voice. The success of the strategy depended on how this voice resonated with its target audience.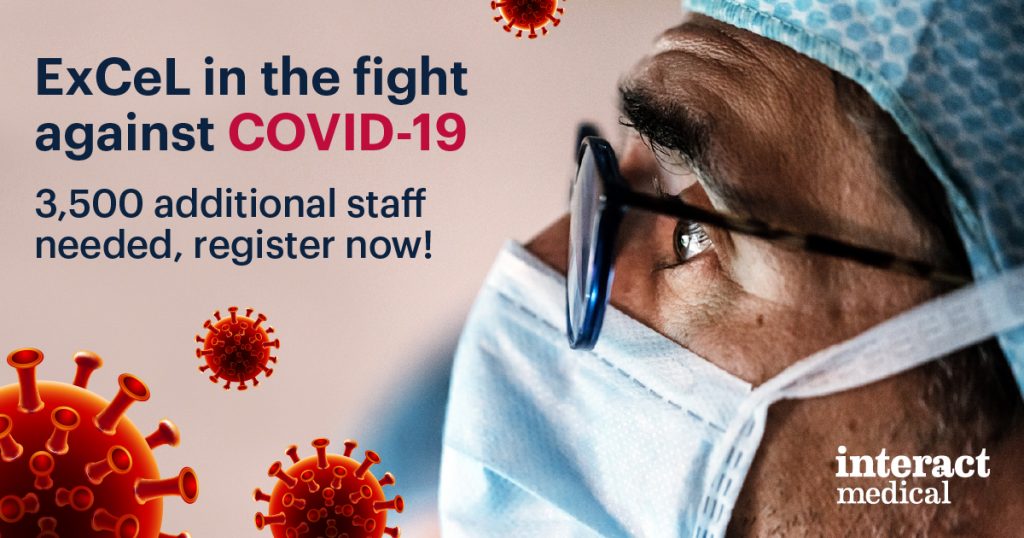 Interact hadn't been active on social media for some years, VI took over their social media management – we were basically starting from scratch.
The results showcased below show that VI reimagined Interact Medical's recruitment campaigns as a candidate-first experience, where they attract the best talent for their customers. Using these strategies, we arrived at the perfect formula for their near and long-term outcomes to attract candidates that would be an asset to them not just now but during this difficult COVID period but also in the future.

VI's social media management includes monthly calendar scheduling, content creation, daily monitoring and monthly reporting.
To speak to our team about any of these services, just give us a call!