The food was supplied by Papa John's (GB) Ltd and Brioche Pasquier UK which was fantastic and very tasty. 🍕
MK Dons SET – Friends of the Trust Event
The presentation from MK Dons SET CEO Maralyn Smith was excellent. She informed the room about the new programmes they have delivered in the last 6 months and all the things we can look forward to supporting in the following months. 👏🏻
MK Dons Sport and Education Trust (SET) is an independent charity aligned to Milton Keynes Dons using the brand of the club as one of its tools of engagement to improve the lives and experiences of its local community. The SET delivers life-changing programmes in Milton Keynes and the surrounding area and focuses on education, social inclusion, health and wellbeing, girls and women's football, football development and community delivery.
Visual Identity is delighted to support the SET and get involved with such a worthy local charity. 😎
We met some brilliant young talents and heard from two of the SET's KickStarters. Marcus and Robbie have both been given a full-time role at MK Dons FC in Groundskeeping and Media. Both explained how the programme has given them a purpose and they couldn't have done it without the support of MK Dons SET and the funding gained from our Friends of the Trust initiative.
After the presentation, we discussed with Robbie how VI will support him with some additional personal development – we plan to mentor him by allowing him to work with our digital and social media marketing team. 🧑
Vi's objective over the next three years is to increase our community outreach. Connect with other businesses and charities such as the MK Dons Set Trust and support these local charities and good causes to make a difference to the people they help.
The MK Dons Set thanked all of the Friends of the Trust members in helping the SET "Strive for Excellence in our Community".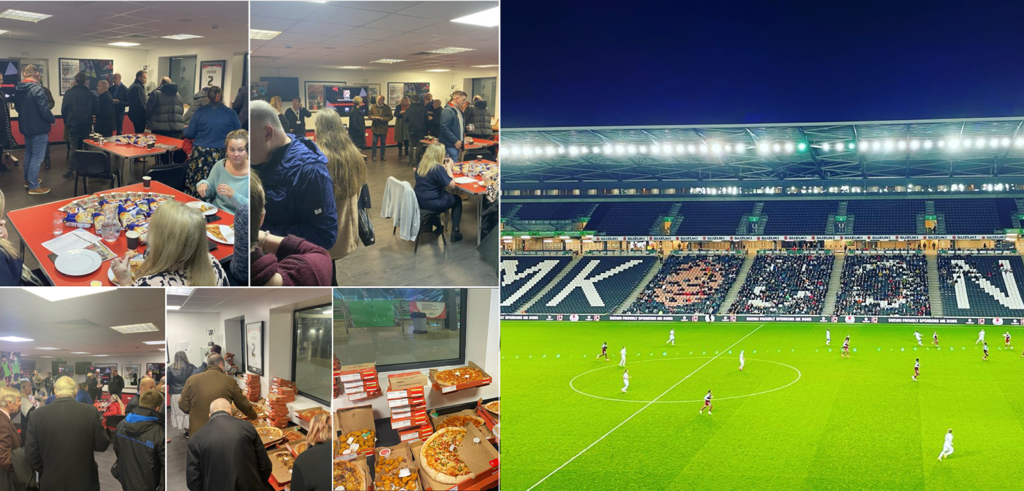 Papa Johns Trophy
After the event, we returned to the Stadium to watch Aston Villa Football Club (Under 21s) V Milton Keynes Dons Football Club in the Papa Johns Trophy. A win would have been nice but regardless we were delighted to be invited and enjoyed the evening. Thank you to everyone involved. ⚽
Want to know – get in touch today 01908 665537
#success #community #football #charitysupport #charityevent #charityfundraising #footballfans