Content is an often overlooked element of website design and marketing. Writing copy for the web gives you the benefits of SEO – without keyword stuffing.
As one of the oldest Marketing Agencies in Milton Keynes, we consider content marketing a vital part of our own ongoing marketing strategy and one of the most effective ways to increase brand awareness and generate genuine, organic leads.
Quality over quantity
Content Marketing actually includes all types of online content, which is created and implemented online through website copy, videos, blogs, emailing and social media posts to stimulate organic interest in a brand or company.
Search Engine Optimisation
Important but labour intensive…
SEO is a skill that we are well versed in, we work with you to get the best results from your online content.
We are specialists in online marketing services and have the time to keep up-to-date with the most effective tools to help you achieve results in the digital world. We also keep up to date with new trends and search engine updates/changes, which can easily be missed if you have a small team – or you aren't sure what to look for.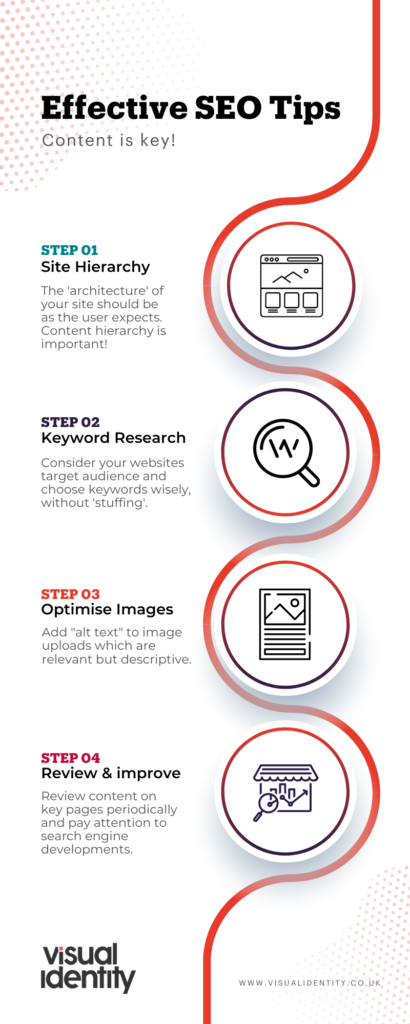 Email marketing supports Content Marketing
Research shows that no marketing channel consistently returns a better ROI than a properly implemented email marketing campaign. Repeat customers are the most valuable. They convert at the highest rates (20%), spend the most time on your website (7.69 seconds on average), have the most page views per session and spend the most if well looked after.
If you blog regularly, emailing your customer database periodically is an excellent way of sharing these articles and directing potential customers to the right areas on your website.
Video & Animation
It's no surprise that video has become the most popular type of content online. Without realising, we view videos on social media sites, probably within the first 10 minutes of our day – if, like us, you have a habit of scrolling through your news feeds first thing in the morning.
But without realising – all of the information we see in a video sinks in… and we're more likely to remember a brand if they post visual, inspiring videos or images.
81% of marketers feel that video has a direct, positive impact on sales.

At Vi, we combine the talents of a video production company, with the knowledge and expertise of scriptwriters and storyboard creators to develop branded video content that engages and entertains your audiences. Whether it's videography to promote services or share casestudies. Or animations to build brand awareness and represent a companies ethos or the characters behind a business – we work with talented, creative and trusted producers.

Video for global Healthcare product distributor.
Social Media Marketing
Although paid social media marketing is the best way to target specific demographics, a well-planned ongoing (unpaid) social media strategy is one of the best and most cost-effective ways to promote your business.
Whether for work or pleasure, most of us use social media and browse social platforms daily. Your brand's social media pages are often the first place that prospective customers will 'check you out', as social platforms allow companies to portray their full 'persona' and really show off their products or services in creative ways.
Kick-start with a Content strategy
The most important aspect of a website is its content. Yes, it's important that a website is visually appealing and user-friendly, but content hierarchy is a key consideration when building a website. Luckily, this is our bread and butter – we are experts in formulating a strategy and content plan when working on a website build or development.
---
Whatever you need help with, whether it's producing content for your website, social media campaigns or even monthly blog creation to keep your site fresh… Visual Identity is your local full-service agency.